Need Gear
recommendations?
Ask Pat!
The Top 10 Best Flies For Smallmouth Bass
14 items found
Shop all

fly fishing gear
Best Flies for Smallmouth Bass
Smallmouth bass are one of the most popular freshwater gamefish in the US and our favorite when it comes to warm water fly fishing. Here at The Fly Fishers, we have been chasing these great gamefish even before they became cool. Pat Ehlers, owner here, has been guiding for these great fish for over 30 years and has fished and done smallmouth bass schools in the Midwest with the likes of Bob Clouser and Dave Whitlock.
Flies for Catching Smallmouth Bass
Smallmouth bass have a wide diet and will eat everything from aquatic nymphs to frogs. Crayfish are probably their most preferred food and they feed heavily on many baitfish species and leeches as well. Most fly anglers love to catch these fish on top and poppers are extremely effective. We carry all of these types of flies from the best poppers in the business to deer hair bugs and all of the sub-surface patterns you need.
Rods and Reels for Catching Smallmouth Bass
We prefer 7 and 8 weight fly rods for smallies. These are a good size to throw larger flies if needed and they have enough backbone to handle the big girls, especially if you are fishing in moving water and fighting the current. Fast action rods are important to help you throw accurate casts, cast large flies and throw longer casts to cover more water efficiently. 6 weights can be effective for smallies but we only like fishing this size where smaller fish will be encountered, especially in smaller streams. Keep in mind that playing large bass on light rods can actually kill a fish by playing it to death. While the bass may swim away after releasing it, they often suffer from lactic acid buildup from the extended fight and die shortly after.
Fly reels for bass fishing call for a simple reel where paying for a drag isn't a necessity. Something that matches the weight of the rod to balance it out is really all you need.
Smallmouth Bass Fishing Techniques
Smallmouth bass fishing techniques can vary from season to season. They will also vary depending on the water you will be fishing. Locating the fish is the first thing you need to do and then adjusting your flies, stripping techniques and water column location to find success. Give us a call and we will be happy to help you get it figured out.
Top 10 flies for smallmouth (in both surface and subsurface versions):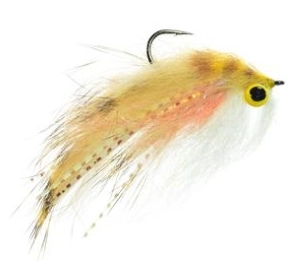 Can't decide what to try? Try them all! Check out our assortment of the best fly patterns for smallmouth bass and save a few bucks.