Need Gear
recommendations?
Ask Pat!
5 items found
Shop all

fly fishing gear
You might also like:
The Fly Fishers' Pike and Musky Fly Assortment
$139.99
Featured Products
The Fly Fishers' Pike and Musky Fly Assortment
$139.99
Scott Freshwater & Saltwater Fly Rods For Sale Online
Scott Fly Rods Lifetime Warranty
Scott offers a lifetime warranty for fiberglass and graphite rods under the following conditions:
Warranty applies to the original owner only
Must be purchased from an authorized Scott dealer
Must be registered within 30 days of purchase
Rods bought from third parties such as Ebay are NOT covered by the warranty. Please see Scott's official website for additional details.
Scott Fly Rods are made from the finest materials to ensure you have a detailed, durable and long lasting rod.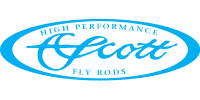 Every rod is handmade by experienced fishing professionals who love to fish just as much as you do. They understand you won't settle for anything less than the best rod you can get your hands on. Scott Fly Rods have user-friendly features such as alignment dots, self-indexing reels seats and measuring wraps.
The Reviews are in - Scott Fly Rods Exhibit Master Craftsmanship
Nothing affects your experience on the water more than substandard tools. Any hitch in casting, reaction or response provokes a grimace and a big unnatural red flag to hungry fish. You shouldn't need to pay your rod or outfit any mind when you're on the hunt.
Wield a Scott fly rod and you'll animate flies exactly as you wish without a hiccup. Cast your fly on a dime. You have ultimate control.
Handcrafted Graphite and Fiberglass Fly Rods Offer Unmatched Versatility
Fly fishers across the United States sling Scott fly rods to hook bass, trout, steelhead and big game like pike and muskies. There's a Scott rod for freshwater, saltwater, lakes, streams and rivers.
The fly rod craftsmen at Scott are true artisans of great tools. Our full inventory of Scott Fly Rods includes the following models:
Scott Fly Rod Models

| MODEL | TYPE | WEIGHTS | ACTION | PRICE |
| --- | --- | --- | --- | --- |
| Tidal | Saltwater | 6wt-12wt | Fast | $495 |
| G Series | Freshwater | 2wt-6wt | Medium | $845 |
| Flex | Freshwater | 3wt-8wt | Fast | $475 |
If you've been looking for the highest quality fly rods in terms of functionality and design, you've found it. Scott Fly Rods make for the best fly fishing experience. Browse our full supply today.
Shop our full stock of fly fishing rods for sale online from The Fly Fishers.
Shop the Best Flies to Use with Scott Fly Rods
Shop Fly Fishing Reels to Fit Your Scott Fly Rods