Need Gear
recommendations?
Ask Pat!
96 items found
Shop all

fly fishing gear
Our trout flies contain patterns that will work anywhere you may chase these great fish
The fly fishing business is driven by fly fishing for trout. Most innovations in fly fishing start with trout fly fishing in mind. With most of the trout's diet consisting of insects, they are the perfect species for the fishermen fishing with flies. Trout can be found across the country and often inhabit some of the most beautiful places we fish. We have the right flies and the right fly fishing gear to help you pursue these beautiful fish.
Flies for Trout
Trout flies come in three basic types: dry flies, wet flies, and streamers. While we can match the hatch in most species of fish we go after, matching the hatch started with trout. Dry flies are the patterns fished on top of the water's surface. Whether a small adult mayfly that just hatched from its nymphal form and is floating down the stream drying its wings to take off or a large grasshopper pattern, dry flies are fished on top. Wet flies on the other hand are flies fished below the surface. This is often an imitation of an aquatic insect living in the stream waiting to mature and hatch at the water's surface or some form of aquatic invertebrate like a sowbug or scud. Streamers are the imitations we use to imitate baitfish and leeches that trout, especially large ones, often feed on too.
Rods for Trout
Most trout fly rods sold are either 4 or 5 weights. These are the workhorse sizes that cover most trout fishing scenarios. 2 weights and 3 weight fly rods are often chosen for small stream trout fishing and for very delicate presentations. These "ultra-lights" have limitations in the size of fly they can throw along with not being able to handle windy days very well. 6 weights can be a popular size trout rod for anglers fishing bigger water like those found in the western states or for anglers trying to get double duty as a panfish/light bass rod. 7 weight rods are a good tool for places where large trout are fished for with bigger streamers or fishing the large rainbows in Alaska.
Trout Fishing Techniques
Trout fishing presentations can include anything from fishing super-selective trout with dry flies in a foot of gin-clear water to dredging deep holes over 5 feet deep with sinking lines for trout approaching 10 pounds. Space limitations don't allow for doing the subject justice here. However we are more than happy to help you with questions. Please feel free to call, email us or stop in. Our staff has guide experience from Alaska to Montana, Utah and Colorado as well as the Midwest. We're here for you.
Here are some of our favorite flies for trout:
Copper John



The Copper John is the best-selling trout fly of all time. It's got added weight from fly tying it with a bead, epoxy wingcase and copper wire. If you fly fish with a nymph the Copper John is an absolute must-have.
Beadhead Prince Nymph



The Beadhead Prince Nymph is your meat and potatoes trout fly. They imitate all sorts of different aquatic insects and are a great all-around option.
Beadhead Pheasant Tail Nymph



Much like the Beadhead Prince Nymph, this is an excellent all-around fly for trout that will perform in all sorts of trout fly fishing environments.
Lightning Bug



Use the Lightning Bug trout fly when fly fishing with a 2 fly nymph rig or as a dropper fly under a dry fly. We've had a lot of success with this one fly fishing the Madison River in Montana.
Pink Squirrel



The Pink Squirrel trout fly came out of the driftless area of Wisconsin and is one of the most effective trout flies you'll use no matter where you go.
Elk Hair Caddis



Trout fly fishers everywhere swear by the Elk Hair Caddis. This one's a no-brainer – this one will match caddis hatches anywhere.
Parachute Adams



The Parachute Adams is one of the best all-purpose dry flies for trout. It's hard to beat the Parachute Adams. Just put it in your fly box and be ready to deploy it.
Pass Lake





The Pass Lake is a classic fly fishing pattern with Wisconsin roots that has found success hooking trout and even panfish across the United States.

Gold Bead Rubber Leg Crystal Bugger


Here's an excellent option as a trout streamer. Another highly versatile option for catching all sorts of trout species.We know what trout flies to use - and where and when to use them.
Need more advice? Contact the fly shop for more information on what trout flies you've got to add to your collection before your next trip.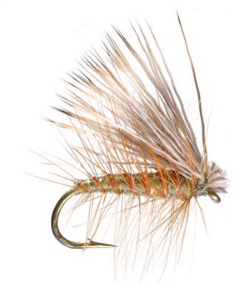 Shop trout flies for all seasons - early season, late season, fall, spring, summer and even winter.