Umpqua Ultimate Trout Selection Fly Kit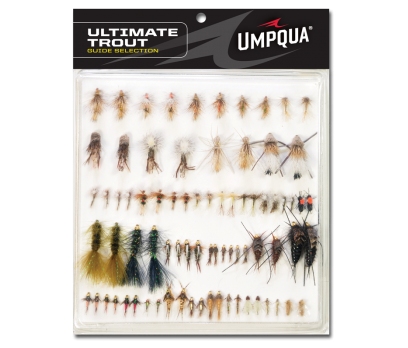 Have questions? Call us

(414) 259-8100
Products you may also like
Rainy's Whitlock's Signature Trout Fly Assortment
RWHTASST -
$34.95
View Product
Umpqua Great Lakes Fly Selection Kit (Deluxe)
GREATKIT -
$56.99
View Product
Need It Today? Pick up in store.

Business Hours

Monday

- Closed

Tuesday

- 10:00AM - 6:00PM

Wednesday

- 10:00AM -6:00PM

Thursday

- 10:00AM - 6:00PM

Friday

- 10:00AM - 6:00PM

Saturday

- 9:00AM - 4:00PM

Sunday

- Closed
Shop the Umpqua Ultimate Trout Selection for a tried and true selection of trout fly fishing fly patterns that will catch trout on any trout water you can find. This trout fly fishing flies kit contains 78 premium Umpqua fly patterns that cover streamers, nymphs and dry flies.
Be sure to have fresh leaders and a fly box to keep you flies in.
The Umpqua Ultimate Trout Selection fly fishing flies kit includes the following fly patterns:
[2] Biot Epoxy Stone - Golden #12
[2] Black Beetle - #14
[2] Copper John - Copper #16
[2] Copper John - Copper #18
[2] Copper John - Red #16
[2] Dave's Hopper - #10
[2] Deep Sparkle Pupa - Brown/Yellow #14
[2] E/C Caddis - Olive #16
[2] E-Z Caddis - Tan #16
[2] Flashback Hare's Ear - #16
[2] GB Crystal Bugger - Black #8
[2] GB Hare's Ear - #16
[2] GB Mini Stone - Brown #10
[2] GB Pheasant Tail - #16
[2] GB Pheasant Tail - #18
[2] GB Prince Nymph - #14
[2] GB Prince Nymph - #12
[2] GB Squirrel Nymph - #14
[2] GB Rubberleg Leg Stone - Black #8
[2] Madam X - #10
[2] Micro Mayfly - Olive #16
[2] Parachute - Adams #16
[2] Parachute - Adams #18
[2] Parachute - BWO #18
[2] Parachute Hopper - Tan #10
[2] Poxyback - Baetis #18
[2] Poxyback - PMD #16
[2] Sparkle Dun - Baetis Olive #18
[2] Sparkle Dun - Sulfur #16
[2] Stimulator - Olive #16
[2] Stimulator - Royal #14
[2] Stimulator - Yellow #12
[2] Stimulator - Orange #14
[2] Turck's Tarantula - Brown #8
[2] Wooly Bugger - Olive #8
[2] Wulff - Royal #14
[2] Wulff - Royal #16
[2] X Caddis - #16
[2] Z-Wing Caddis - Amber #14
Shop all

fly fishing gear