Need Gear
recommendations?
Ask Pat!
Fly Tying Materials & Supplies
5 items found
Shop all

fly fishing gear
Find the BEST fly tying materials and supplies from our online fly shop.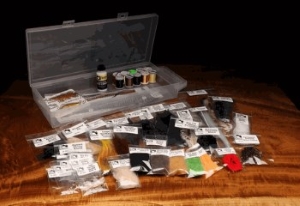 Shop fly tying kits, assortments and basic materials and supplies from The Fly Fishers fly shop.
The Fly Fishers carries a huge selection of fly tying materials from companies like Hareline Dubbin, Wapsi Fly, Enrico Puglisi, Nature's Spirit, and Loon Outdoors:
Fly tying kits & assortments
Fly tying dubbing
Fly tying eyes, beads & cones
Fly tying body material
Fly tying feathers
Fly tying flash materials
Fly tying foam & rubber materials
Fly tying furs & hairs
Fly tying hooks
Fly tying synthetics
Fly tying thread and tinsels
Glues & adhesives
...and many more supplies
We offer FREE SHIPPING for all orders over $50.
Using the right fly tying tools saves time and gets fly patterns done right the first time:
Catch What You Want - When You Want
No matter whether you are tying trout flies, bass flies, muskie flies or saltwater flies, we have the fly tying materials, hooks and gear you need. Beginners and experienced fly fishers alike get their gear from our Milwaukee, Wisconsin fly shop. Stop in and look around if you're in the area, or shop our online inventory.
Supplying Hooks from the World's Best Fly Tying Gear Manufacturers
We carry fly tying hooks from some of the best in the business: Daiichi, Tiemco and Gamakatsu. It's easy to animate dry flies, wet flies, nymphs and streamers perfectly in freshwater and saltwater when you've got the right equipment. With hooks and gear from The Fly Fishers, you'll be well-equipped to get great results in all conditions. As always, be prepared, adapt to your surroundings and you'll inevitably become a better fisherman.