Need Gear
recommendations?
Ask Pat!
Shop all

fly fishing gear
Umpqua Great Lakes Fly Selection Kit (Deluxe)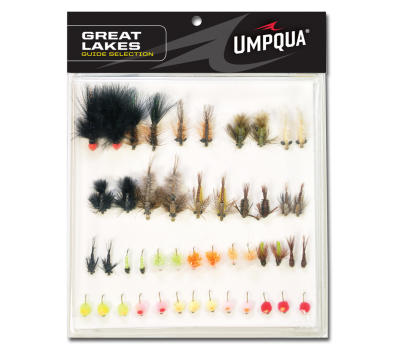 Have questions? Call us

(414) 259-8100
Products you may also like
Patagonia x Danner Foot Tractor Wading Boots - Aluminum Bar
TRACTORAB -
$399.00
View Product
Need It Today? Pick up in store.

Business Hours

Monday

- Closed

Tuesday

- 10:00AM - 6:00PM

Wednesday

- 10:00AM -6:00PM

Thursday

- 10:00AM - 6:00PM

Friday

- 10:00AM - 6:00PM

Saturday

- 9:00AM - 4:00PM

Sunday

- Closed
Great Lakes Steelhead Fly Fishing Flies Assortment
This fly assortment from Umpqua contains fly patterns chosen by Umpqua professionals that are perfect for fly fishing salmon and trout in the Great Lakes tributaries. These streamer, nymph and egg flies are great to get your fly box started or round out an already established steelhead fly box. This assortment of 20 Great Lakes steelhead flies will have you covered!
[1] Antron Bug - Hexagenia #6
[1] Antron Bug - Shrimp #6
[1] Bear's Crystal Egg - Peach #8
[1] Bear's Crystal Egg - Orange #8
[1] Bear's Crystal Egg - Chartreuse #8
[1] Bear's Fuzz Buster - Olive #8
[1] Bear's Hex - #4
[1] Bear's PM Caddis - #8
[1] Bear's Stone - #8
[1] Caddis Larva - Charteuse #8
[1] Egg - Oink/Champagne #8
[1] Egg - Peach #8
[1] Egg - Fluorescent Orange #8
[1] Egg - Oregon Cheese #8
[1] Egg - Chartreuse #8
[1] Egg Sucking Leech - Orange #4
[1] Hex Nymph - Peach #6
[1] PCP Nymph - #8
[1] PM Stone - #6
[1] Steelhead Bugger - #6