How to Attach Backing to a Fly Reel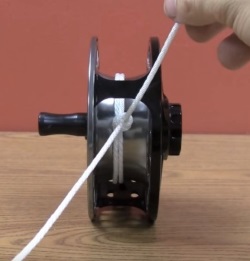 Learn to tie strongly to your fly reel.
Fly Tying for Attaching to a Fly Reel
Jared Ehlers teaches a great way to tie backing on to your fly reel. Very simple, strong and not bulky! We use this from little 2 and 3 weight fly rods for trout up to the biggest saltwater fly fishing setups.
The better your knotting, the more likely you're able to pull in keeper fish over and over again. Learn the proper technique, and you'll never have to worry when you're out casting on the water.
Check out our wide selection of fly tying tools for your fly fishing tackle box to make things easier. Fly tying can be difficult and time consuming when you're on the water, so make your life easier with helpful equipment from The Fly Fishers.
How to Attach Backing to a Fly Reel
Wrap the backing around the spool twice.
Hold both ends, the tag, and the backing piece together.
Take the tag end and wrap it around the backing and tag portion about 6 times.
Pull it tight (but not too tight! It still has to slide down the reel).
Pull the knot down to the spool and tighten.
Trim the tag end.
You're ready to spool the backing.
Browse our full selection of fly lines, leaders and tippets for sale online from The Fly Fishers.