Need Gear
recommendations?
Ask Pat!
Shop all

fly fishing gear
Loon UV Clear Fly Finish - Thick (2oz)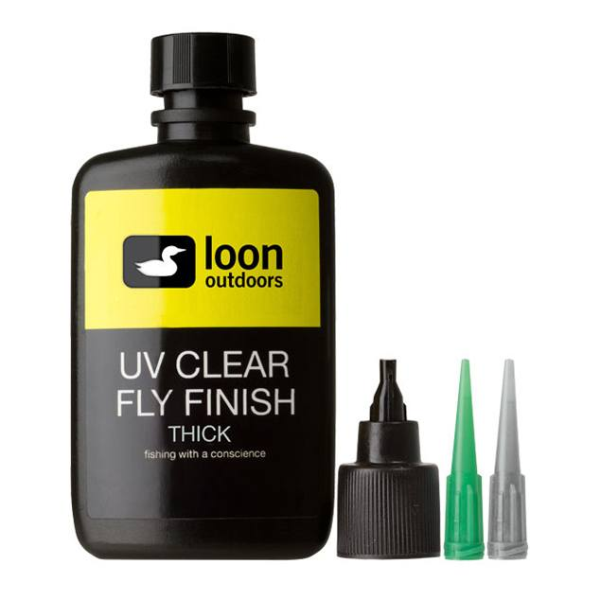 Have questions? Call us

(414) 259-8100
Product Number:
LOONUVTHIK2
Products you may also like
Need It Today? Pick up in store.

Business Hours

Monday

- Closed

Tuesday

- 10:00AM - 6:00PM

Wednesday

- 10:00AM -6:00PM

Thursday

- 10:00AM - 6:00PM

Friday

- 10:00AM - 6:00PM

Saturday

- 9:00AM - 4:00PM

Sunday

- Closed
No mixing and no waiting five minutes to build a head. Loon UV Clear Fly Finish Thick is Loon's original high-viscosity UV resin builds up quickly and cures almost instantly with a UV light. Includes brush applicator and UV blocking needle applicators.
Buy Loon UV Clear Fly Finish Thick for the ideal fly tying resin for building bodies and heads quickly. This is the choice to make if you are sealing eyes into the fly head on large flies like muskie flies and large saltwater flies.
DIRECTIONS FOR USE:
Apply Fly Finish to fly while indoors or shaded from the sun. Use applicator and/or rotating vise to form into the ideal shape. Expose to sun light or use Loon's Loon's UV Mega Light or UV Power Light to cure. In direct sun (or when using Loon's UV Lights) hardening should take approximately 15 seconds.
FEATURES
Available in 2 oz & ½ oz size
New UV Blocking application needles
New Taper-Tip needle prevents clogs
Build fly heads and bodies
Instantly cures with sunlight or UV light
Brush applicator included
Needle tip included for precision tying
Viscosity: Honey.
2oz. bottle.