Ultrathon Insect Repellant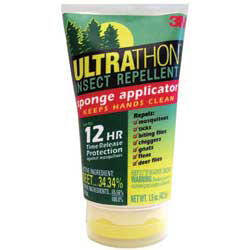 Have questions? Call us

(414) 259-8100
Need It Today? Pick up in store.

Business Hours

Monday

- Closed

Tuesday

- 10:00AM - 6:00PM

Wednesday

- 10:00AM -6:00PM

Thursday

- 10:00AM - 6:00PM

Friday

- 10:00AM - 6:00PM

Saturday

- 9:00AM - 4:00PM

Sunday

- Closed
This is our favorite insect repellant here at The Fly Fishers. We have been using Ultrathon since it came out years ago.

In the mid-1980's, the US Military contacted 3M to develop a better form of protection based on 3M unique Time Release Technology, and Ultrathon Insect Repellent was developed by 3M for the US Military to provide up to 12 hours of protection for their troops. The resulting product, Ultrathon Lotion, quickly replaced their previous DEET product and is still being used today by troops in all areas of the world. Ultrathon has been tested in the harshest environments in the world the Central American Jungles. Longer lasting protection with less DEET.
Advanced 3M formulation creates an effective barrier that repels mosquitoes that may carry West Nile Virus, and ticks that may carry Lyme Disease.
mosquito repellent
tick repellent
biting fly repellent
chigger repellent
gnat repellent
flea repellent
deer fly repellent
Features:
Splash and Sweat Resistant Insect Protection
Proven Formula
Time Release Protection means DEET is slower to evaporate and provides protection after others have dissipated.
Ultrathon's unique technology gives the user a balanced mix between concentration of DEET and long lasting protection.