Billy Pate Salmon Fly Reel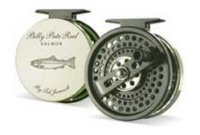 Have questions? Call us

(414) 259-8100
Need It Today? Pick up in store.

Business Hours

Monday

- Closed

Tuesday

- 10:00AM - 6:00PM

Wednesday

- 10:00AM -6:00PM

Thursday

- 10:00AM - 6:00PM

Friday

- 10:00AM - 6:00PM

Saturday

- 9:00AM - 4:00PM

Sunday

- Closed
Billy Pate Salmon Reel -BIL-SAL
The Standard for the High Performance Fly Reel
The first classic Billy Pate fly fishing reels were introduced in 1976 and still remain the series at the top of fly fishing reel performance. These fly fishing reels maintain their classic gold and jet black appearance while continuing their incredible level of performance. Billy Pate fly fishing reels feature a unique anti-reverse design to keep your knuckles in tact when dealing with running fish. The Billy Pate Salmon fly fishing reel is designed for your 6-8 weight fly fishing rods and is great for fly fishing bonefish, fly fishing steelhead, fly fishing permit and of course fly fishing salmon.
While there are over 225 World Records that attest to its performance, you don't have to be interested in records to appreciate this reel. If you know your fly fishing history, you know this is the reel that set the hook.
Billy Pate Salmon Fly Reel Specs
Weight:


8 oz.
Frame Size:
3 1/2" x 1 1/2"
Capacity:
230 yds. with WF6F
215 yds. with WF7F
200 yds. with WF8F
All with 20 lb. backing
Rod Weights:
6-7-8
Species:
Steelhead, Salmon, Bonefish, Permit, Dorado, Bluefish
Fly Tying Video Guides
How to Tie a Perfection Loop Knot
How to Tie an Improved Clinch Knot
How to Attach Backing to a Fly Reel
How to Tie a Double Surgeon's Knot
How to Tie a Rapala/No-Name Loop Knot