Tibor Spey Fly Reel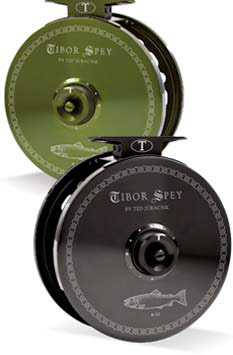 Have questions? Call us

(414) 259-8100
| | |
| --- | --- |
| Tibor Spey Color: | |
| Tibor Spey Reel Size: | |
$795.00
Need It Today? Pick up in store.

Business Hours

Monday

- Closed

Tuesday

- 10:00AM - 6:00PM

Wednesday

- 10:00AM -6:00PM

Thursday

- 10:00AM - 6:00PM

Friday

- 10:00AM - 6:00PM

Saturday

- 9:00AM - 4:00PM

Sunday

- Closed
Two-handed fly rodding gets a sure-handed Tibor update in this modern spin on one of fishing's most hallowed traditions. Engraved with a Steelhead Trout and traditional Celtic knot pattern, the Tibor Spey fly fishing reel features a modified drag system with a drag knob outlined in "witness marks" for convenient adjustment when fighting fish while fly fishing steelhead in British Columbia. These marks allow you to precisely set, loosen, keep track of and then reset your drag for the various tippet tensions required while striking, fighting and delicately landing larger fish like fly fishing King Salmon in Alaska or fly fishing with a spey rod for steelhead in Oregon or as a switch rod fly reel.
The Tibor Spey also features our QuickChangeTM spool system which allows you to change out spools on a moment's notice. With only a single moving part - the one-piece stainless steel end cap - there is nothing to remove, no loose parts, tricky threading or alignments. This will keep you from losing parts among the rocks while fly fishing steelhead on the Umpqua River in Oregon.
Finished in Tibor's non-reflective traditional moss green, and featuring its own unique spool design, the Tibor Spey is precisely weighted and balanced for the heavier lines and rods used in this classic form of fishing. Like every Tibor product, it's made and assembled in the USA, virtually maintenance-free and backed with their lifetime warranty.
The Tibor Spey 11-15 is a perfect fly fishing reel for spey rods in 11-15 weights for fly fishing king salmon and big river fly fishing steelhead, and the Tibor Spey 8-10 is an ideal fly fishing reel for spey rods in 8-10 weights for fly fishing salmon and fly fishing steelhead.
Check out all of the Tibor Reels.
Spey 8-10 Spey 11-15

Weight 10.5oz Weight 12.5oz
Frame 4' x 1 3/8" Frame 4 3/8" x 1 3/4"
Capacity Skagit 550 grain Capacity Windcutter Spey Lines
Windcutter Spey 8/9/10 from 8/9/10 to 10/11/12
all with 200 yds 20# Power Spey 8/9F, 9/10F, 10/11F
Rod Weights 8-9-10 all withn 300yds 30#
Fly Tying Video Guides
How to Tie a Perfection Loop Knot
How to Tie an Improved Clinch Knot
How to Attach Backing to a Fly Reel
How to Tie a Double Surgeon's Knot
How to Tie a Rapala/No-Name Loop Knot